Over the last 6 years, the median price for a single-family home in King County has grown by 65%, and in Snohomish County 69%. Above are examples of actual homes sold in late 2015 to early 2016 that also sold in early 2021. Note, they were not remodeled or significantly improved in between sales. These examples show the growth in home values that we have experienced over the last three years due to our thriving local economy. I pulled these examples to show you actual pound-for-pound market data versus the statistical percentages I often quote in these market updates. I thought these examples were pretty telling and quite exciting.
This phenomenon has been driven by interest rates being under 5% for the last five years and under 4% for the last 2 years. In addition to low debt service, the tech-influenced job market has kept the local economy humming. Couple all of this with the convergence of Millennials breaking into the market as first-timers or moving up, Gen-Xers moving up, and Baby Boomers cashing out to the right-size house in our area or relocating altogether, and demand is high. This high demand has put pressure on available inventory, driving up price appreciation.
The more recent influence on home values is the effect of the work-from-home lifestyle on housing. Many companies have announced that post-pandemic they plan to let their employees permanently work from home or do so in a hybrid model. This has changed the preference to be closer to the in-city job centers to avoid a long commute. Now, more and more people are attracted to the suburbs and in some cases more rural settings in order to enjoy larger interior and exterior spaces. According to Matthew Gardner, Windermere's Chief Economist, over 30% of all homeowners in America have over 50% equity. These moves to the suburbs are also propped up on liquidating their equity elsewhere and utilizing it to make a large down payment on the next purchase. Check-out Matthew's latest video update here.
I see this as a re-organization of lifestyle propped up by strong equity growth, low debt service, and the flexibility to live further from one's job. Homes in-city are still experiencing favorable appreciation with the median price up 7% year-over-year in Seattle proper, but there is stronger year-over-year growth in suburban locations. For example, in Lynnwood the median price is up 11% year-over-year. Where this has been a challenge is the typical suburban buyer is now competing with far more buyers for these coveted locations. The former suburban buyer accepted a longer commute for a less expensive home. With commute times a lesser concern, now we have a larger audience vying for homes outside the in-city core, making the suburbs more expensive.
The large price gains might seem familiar to the gains of the previous up market of 2004-2007 that resulted in a bubble, but this environment is much different, which is why we are not headed toward a housing collapse. Previous lending practices allowed people to get into homes with risky debt-to-income ratios, minimal down payments, low credit scores, and undocumented incomes. A large part of why the housing bubble burst 14 years ago was due to people getting into mortgages that were not sustainable, which led to the eventual fall of sub-prime lending and the bubble bursting.
It is supply and demand that is creating these huge gains in prices, not predatory lending. We are starting to see an uptick in homes coming to market which is both seasonal and catch-up from the pause the pandemic created last spring. With the vaccine becoming more and more available, more home sellers will become more comfortable bringing their homes to market. The shake-out of the work-from-home shift will eventually temper as some will choose to stay closer in-city and some employers may revert back to in-person work forces. The suburbs are not for everyone, but for now the puzzle of how housing and lifestyle relate to one another is being re-built.
We are anticipating an increase in inventory as we head into spring and summer which will temper price growth and simmer the frenzy. Many folks who have been waiting out the pandemic to make a move based on retirement or upgrading homes are well-positioned to enter the market. If you are one of those people, I hope these examples provide insight on the increase in home values and how they might pertain to your goals.
Potential buyers might shy away from the market due to affordability. While it is expensive to buy a home in the Greater Seattle area, the people that have become homeowners over the last six years have built some amazing wealth. Interest rates remain low, helping to absorb the cost of a home in our area. Last month, I wrote an article about wanting to sell but needing to also buy, which helped layout some strategies to successfully participate in today's market. If you or anyone you know is considering making a purchase, it is worth the read.
As we head into the active spring and summer months, if you'd like me to provide you a complimentary Comparable Market Analysis (CMA) on your home so you have a better understanding of your home's value, I'd be happy to do that. This would be an important component in charting your 2021 financial goals. Please reach out, it is my goal to help keep my clients informed and empower strong decisions.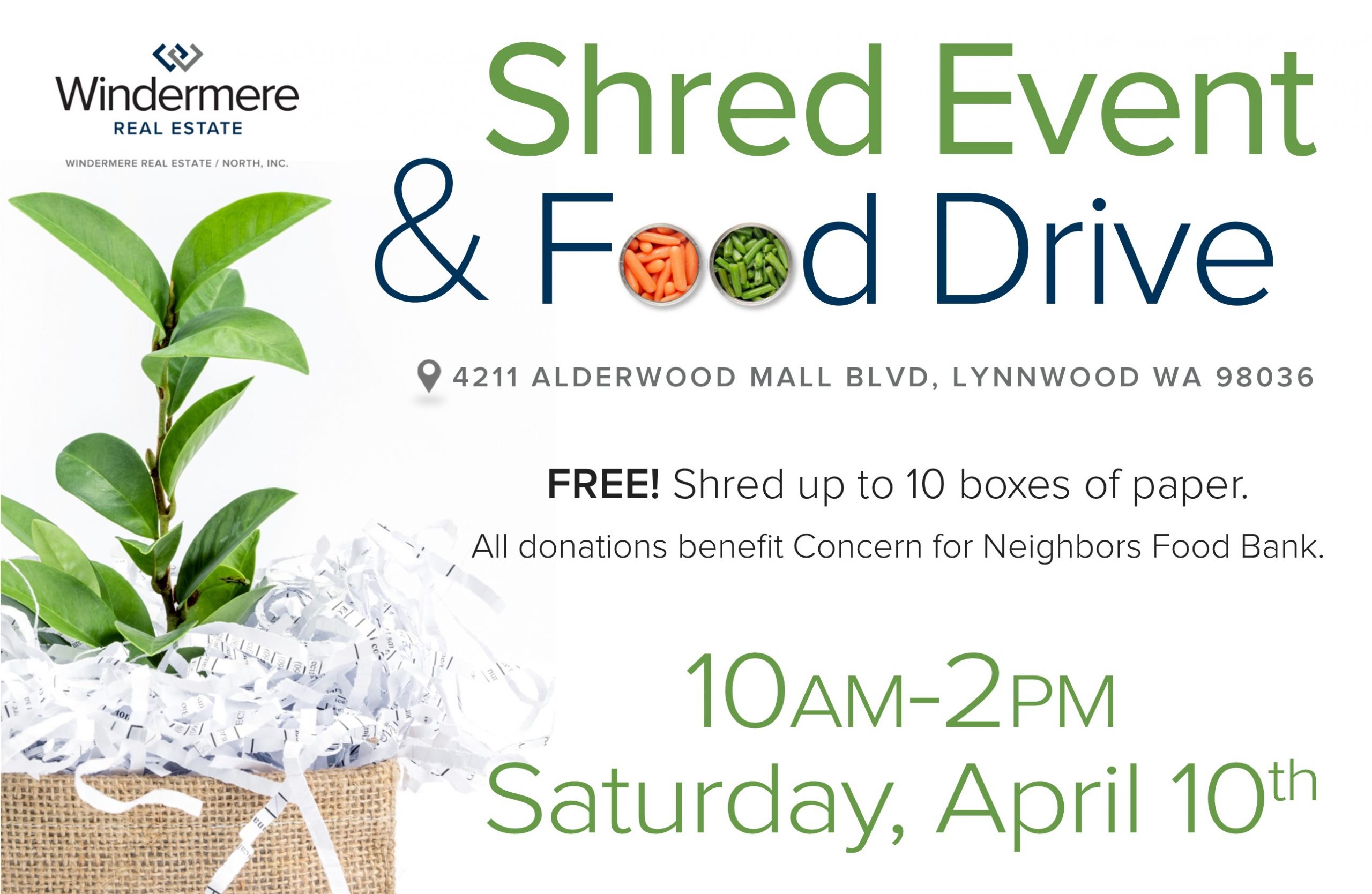 4211 Alderwood Mall Blvd, Lynnwood
We are partnering with Confidential Data Disposal for our 10th year; providing you with a safe, eco-friendly way to reduce your paper trail and help prevent identity theft.
Bring your sensitive documents to be professionally destroyed on-site. Limit 10 file boxes per visitor.
We will also be collecting donations to benefit Concern for Neighbors food bank. Donations are not required but are appreciated.
Hope to see you there!
**This is a Paper-Only event. No x-rays, electronics, recyclables, or any other materials.