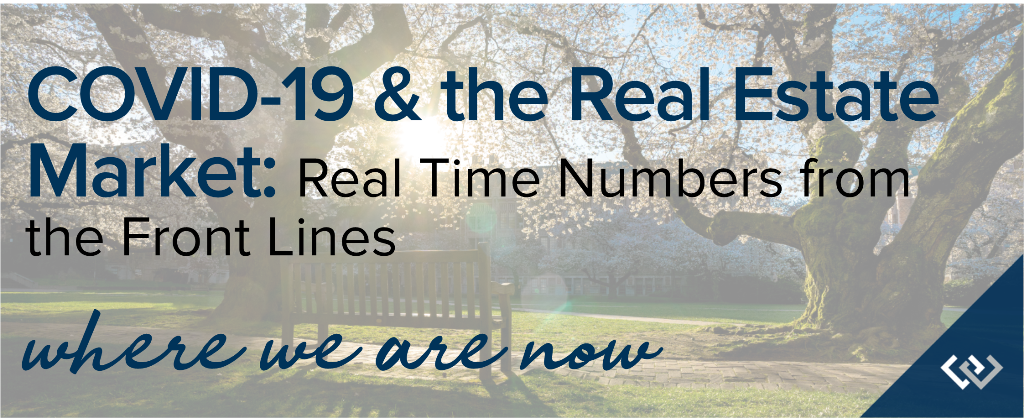 We've said it so many times, but it is so true: these are unprecedented times! In relation to the real estate market, there are many factors that are contributing to this environment. First and foremost, we are living through a global pandemic. Our daily lives have changed and they will probably never be quite like they were before. Besides this major upheaval in life as we know it, we have the lowest interest rates ever in history (this won't last forever), formidable equity levels, and we are at the corner of a generational shift. These factors are fueling demand in the real estate market despite the challenges the pandemic has brought to light. In fact, the pandemic has influenced some very big lifestyle moves due to having time to reflect on goals and the new normal of working remotely.
Low interest rates, Baby Boomers retiring, Millennials stepping up to the home-ownership plate, Gen X settling into their forever homes, and commute times becoming less important are the ingredients in the proverbial pot that is being stirred in the 2020 real estate market. The demand is high! Couple that with a reduction in new listings over the last year and it is competitive. Sellers are in such a favorable position and buyers are devising solid plans to win a home with the lowest debt service in history.
Before I share some tips on how to win a home in today's market, let's look at the numbers. 2020 started off with abnormally low inventory levels following 2019 when we were headed toward more balance in the marketplace. Then COVID hit and the market briefly stalled. There were 8 weeks in King County and 4 weeks in Snohomish County from the onset of COVID where the market performed under 80% of the pending sales rate in 2019. We adjusted rather quickly as the influence of the demand mentioned above found its way with masks on and hand sanitizer at the ready.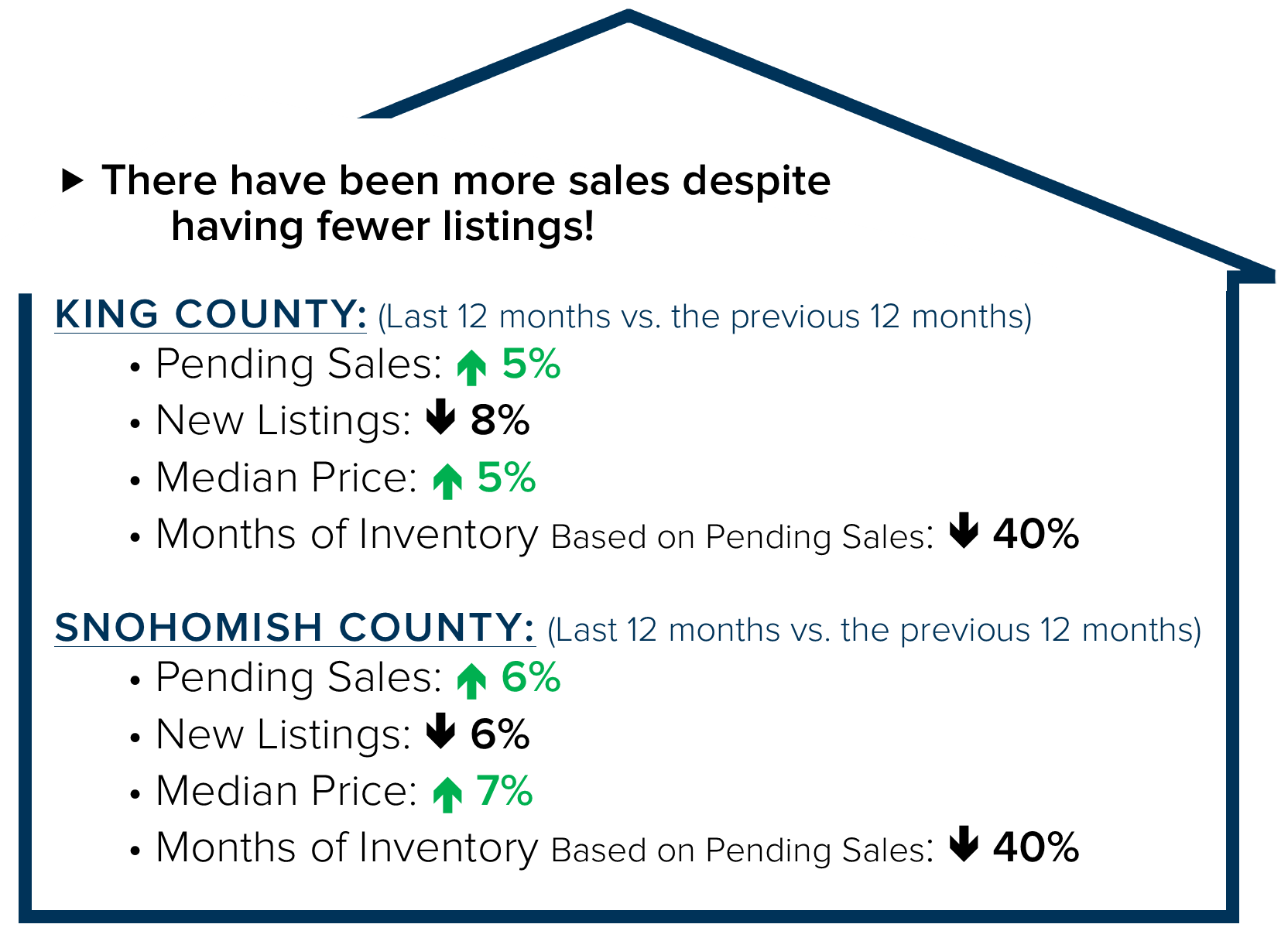 Now that we have established that the demand is strong, debt service is low, and that lifestyle moves are leading the way, how do you make it happen if you want to participate?
Partner with a Broker Who Will Get the Job Done 
A broker that has a process is key! It starts with an initial buyer consultation. I liken the buyer consultation to the seat belt you would wear on a roller coaster. The buyer consultation aims to unearth a buyer's goals, research the areas they are interested in, address financing, and illustrate the challenges of the environment, so one can be successful. Time is money, and this consultation brings clarity, efficiency, and trust. This upfront education coupled with a high level of communication and availability is paramount. The depth of the relationship will lead to success and is the ingredient that enables a buyer to throw up their hands and take the thrilling plunge on the roller coaster. It is hard to do that without a seat belt!
Get Your Finances in Order 
Aligning with a trusted real estate professional is key, but so is aligning with a reputable and responsive mortgage lender. Getting pre-approved is the minimum, but getting pre-underwritten is a game-changer. Finding a lender that is willing to put in the work up-front to vet credit, income, savings, debt, and all other financial indicators will lead to being pre-underwritten, which listing agents and sellers appreciate! Also, be aware that you do not always need to have a huge down payment to make a purchase work. Employment, assets, credit, and what you have saved all work into your ability to acquire a loan. I have seen plenty of people secure a home with 3-5% down. Education and awareness create clarity, and investing into understanding your financial footing equals empowered and more efficient decisions. Note that I mentioned "responsive". This is a 24/7 market, and lenders who don't work evenings and weekends can get in the way of a buyer securing a home. If you need a shortlist of lenders that fit this description, please contact me.
Be Willing to Take Calculated Risks
Buyer due diligence is key to making a sound investment. Even though timelines are tight and buyers must act swiftly, it is not time to just throw caution to the wind. Having some funds set aside to perform a pre-inspection will help a buyer make a purchase with both eyes open and be competitive. Also, going back to getting pre-underwritten, this could empower a buyer to waive financing and beat out all-cash buyers.
Strategizing Down Payment Funds
Many buyers are moving big chunks of equity from their previous home to the one they are buying. Equity levels are deep and prevailing buyers are commonly reserving some of their equity to offset appraisal risk for a seller. The market is appreciating so rapidly that a buyer holding back down payment funds and shifting them to an appraisal safety net has been one of the most successful strategies to help a buyer win a home. The best part is the safety net only seldomly has to be used. This plays into the calculated risk category and also highlights the importance of a good lender and broker to help navigate such decisions.
The Triangle of Buyer Clarity
Buyers must be realistic with their expectations. The triangle of buyer clarity rests on the three corners of Location, Price, and Condition. If a buyer continues to run into walls when making offers it typically has to do with the need to adjust one of the corners of the triangle. Buying a home take compromise, especially with such low inventory. By staying connected to the big picture of building wealth with low debt service, gaining a home that will work with your goals may require an adjustment of location, price, or level of condition. Focusing on the triangle of buyer clarity and talking it through during the buying process leads to clarity and success. A rule of thumb to bear in mind is that when a home starts to check 75% of your boxes, it should be considered.
The 2020 real estate market has provided a ton of opportunity during a very challenging time. It's been a bright light in the economy. If you are curious about how the current market relates to your housing and financial goals, please reach out. It is always my goal to help keep my clients informed so they are empowered to make strong decisions. Be well!

We are proud to be the official real estate company of the Seattle Seahawks! The best part of this partnership is our #TackleHomelessness campaign. For every home-game tackle the Hawks make, the Windermere Foundation donates $100 to Mary's Place which provides safe, inclusive shelter and services supporting women, children and families on their journey out of homelessness.
Go Hawks!