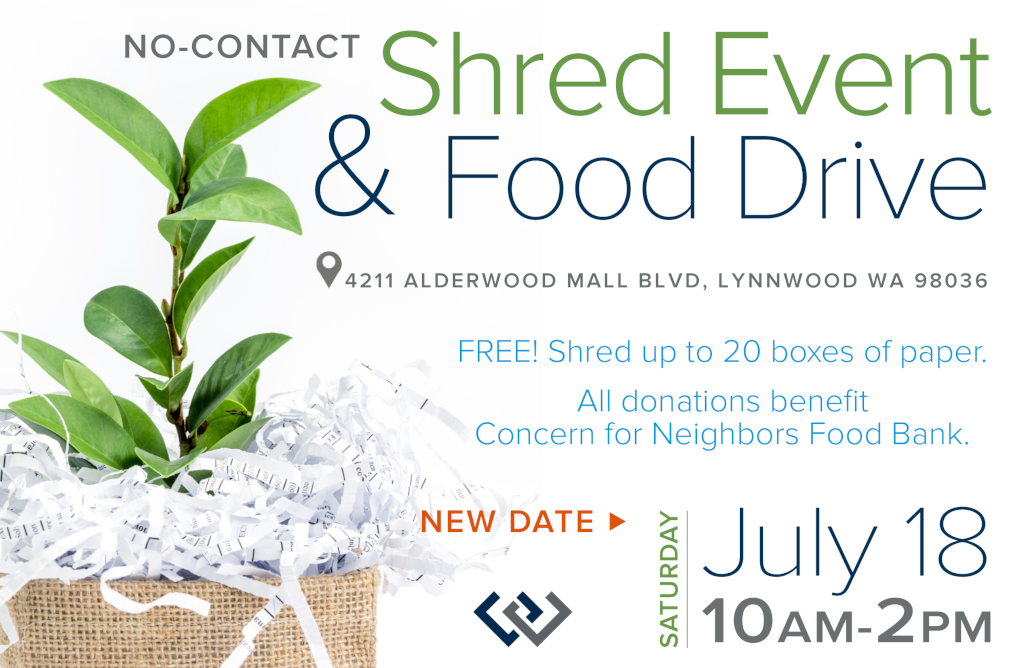 SHRED EVENT
NEW DATE! We are partnering with Confidential Data Disposal for our 9th year; providing you with a safe, eco-friendly way to reduce your paper trail and help prevent identity theft.
⯈ Saturday, July 18th, 10AM to 2PM
4211 Alderwood Mall Blvd, Lynnwood
Bring your sensitive documents to be professionally destroyed on-site. Limit 20 file boxes per visitor.
⯈ We will also be collecting non-perishable food and cash donations to benefit Concern for Neighbors food bank. Donations are not required, but are appreciated. Hope to see you there!
⯈ This is a no-contact, drive-through event. We ask that you stay in your vehicle and unlock your trunk or car door so that we can unload your boxes. We will be taking all proper precautions to keep everyone safe, including wearing PPE, maintaining distance, and using CDC-recommended disinfectants.
**This is a Paper-Only event. No x-rays, electronics, recyclables, or any other materials.