Since the onset of the COVID-19 pandemic reaching our region, I quickly shifted to updating you more frequently with information to help you stay informed on the real estate market. Since mid-March, I have been committed to gathering high-frequency data (micro-data) to help illustrate "Where We Are Now" and have provided this newsletter bi-monthly vs. monthly. I felt this was important as real estate is typically our biggest investment and the pandemic has certainly had its economic impact.
I have also closely followed Windermere's Chief Economist Matthew Gardner, and Economist Steve Harney of Keeping Current Matters. They have both been knowledgeable guides and source their micro-data from various credible sources to help determine their conclusions. Check out Matthew's latest video update below about the real estate market in relation to COVID-19.
The graphs below are a new data set I've been studying on a weekly basis. They compare the number of pending sales reported each week to the same week in 2019, which was another stellar year for our local real estate market. 2020 was outpacing 2019 when the National Emergency was declared and then dropped significantly once the Stay Home Orders were put in place in late March.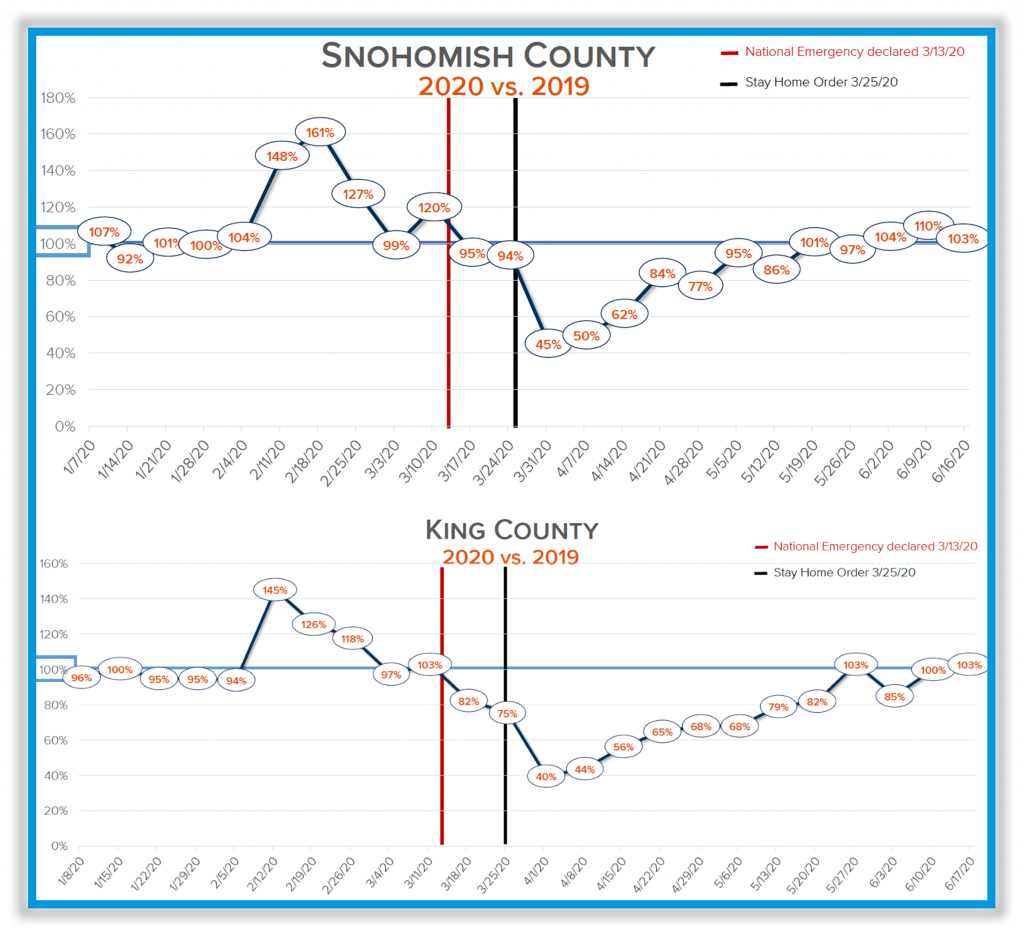 April stalled, and rightfully so: pending sales were down as people retreated into their homes and started new routines, such as working from home. As we ventured into May however, things changed. From mid-May until now, pending sales activity in both counties has started to reach or outpace 2019 numbers.
Spring is typically our peak season for real estate sales, and what is being made clear is that the historically-active spring market has now shifted to summer. As we come off the Summer Solstice and head into the warmer months, we are seeing tons of buyers out in the marketplace and a limited supply of available inventory. This combination has helped prices maintain, and in some areas appreciate.
One set of micro-data that is illustrating increased buyer demand is the uptick in mortgage applications. Last week, mortgage applications were up 20% over the same week last year. Note this is for purchase loans, not refinances. With the lowest rates we have ever seen in history it is no surprise that buyers are motivated to go secure a home with the lowest debt service ever!
Last week, the micro-data set of the recorded home-showing appointments displayed a 51% increase in showings over 2019! This is measured by comparing key box access compared to the same week last year. Demand certainly paused in the spring, but was not eliminated; it was being deferred to the summer. As we have reported from the beginning, this is a health crisis, not a housing crisis.
Our biggest challenge as we head into the peak summer months is the available inventory. We entered into 2020 with tight inventory to begin with, and COVID-19 has had a profound impact on the number of homes coming to market. We are expecting some homes to wait until the health crisis has passed, and others will be delayed by 45-60 days. Homes take time to prepare for market, and contractors and handy-persons were all at home in April, pushing prep time out to later spring/early summer for those ready to come to market.
We expect to see an increase in new listings as we head into July and August, which will be welcomed after a 40% deficit compared to 2019. Mortgage applications, historical interest rates, industries in our region that are thriving, and entering into Phase 2 are all micro-data sets that indicate strong buyer demand for the second half of 2020.
Unemployment numbers are also an important micro-data point to keep an eye on. Since the Stay Home Orders, initial unemployment claims have dropped significantly, but continued claims are maintaining. We anticipate the continued claims to reduce as more and more people return to work after being furloughed. Not all of those jobs will be recovered, indicating our greatest need for recovery.
The last three months have been an incredible journey helping people safely navigate the real estate market. Some folks just want to know that their nest egg is safe, and some are making actual moves. When COVID-19 hit there was a ton of uncertainty, we weren't sure how this would play out in regards to housing. Since we went into this with a very formidable economy and housing values, we have sustained, and in some areas we are thriving. It has been remarkable to watch and be a part of. I am grateful every day that this is not the housing crash of 2008 all over again.
If you are curious about the value of your home in today's market or are considering a move, please reach out. The interest rates are unbelievable and will greatly benefit those who take advantage of them. I am committed to safe business practices and follow all of the protocols put in place, which include mask-wearing, proper social distancing, and sanitizing. It is my goal to help keep my clients informed and empower strong, safe decisions, especially during unprecedented times. Thank you for your trust; I am honored to be your trusted advisor.
SHRED EVENT
NEW DATE! We are partnering with Confidential Data Disposal for our 9th year; providing you with a safe, eco-friendly way to reduce your paper trail and help prevent identity theft.
⯈ Saturday, July 18th, 10AM to 2PM
4211 Alderwood Mall Blvd, Lynnwood
Bring your sensitive documents to be professionally destroyed on-site. Limit 20 file boxes per visitor.
⯈ We will also be collecting non-perishable food and cash donations to benefit Concern for Neighbors food bank. Donations are not required, but are appreciated. Hope to see you there!
⯈ This is a no-contact, drive-through event. We ask that you stay in your vehicle and unlock your trunk or car door so that we can unload your boxes. We will be taking all proper precautions to keep everyone safe, including wearing PPE, maintaining distance, and using CDC-recommended disinfectants.
**This is a Paper-Only event. No x-rays, electronics, recyclables, or any other materials.