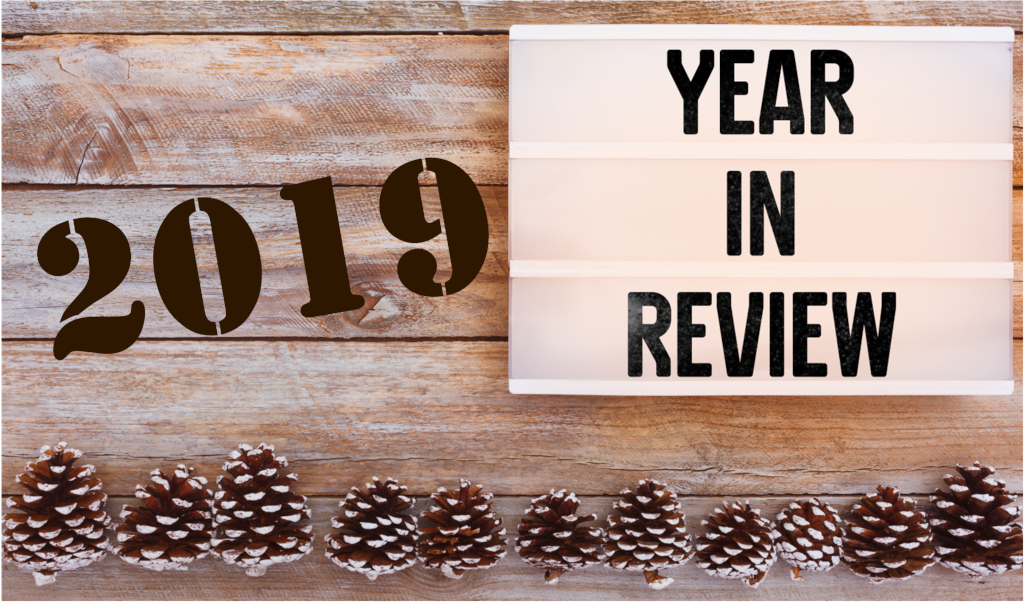 2019 was a return to normalcy in the real estate market. After a volatile 2018 which encountered a sharp mid-year shift from an extreme seller's market, 2019 had a more normal pace of seasonality and selection. After four to five years of multiple offers, week-long market times, waived inspections, and huge price escalations, we've now experienced a balancing out in price appreciation and in some areas, a correction.
Affordability and inventory have driven demand. A healthy increase in homes coming to market compared to two years ago has provided more selection and afforded buyers time to discern their choices. In-city prices found an affordability cap as buyers were forced to move north or south to find the payment they could afford. Close-in, in-city neighborhoods saw a bit of a price correction due to demand slipping for this reason. Overall, it's been a welcome change to help buyers and sellers operate in a more balanced environment.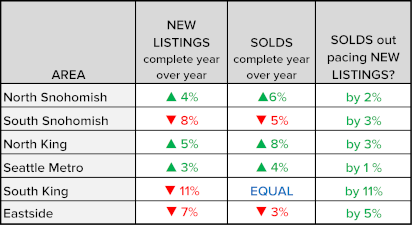 It's important to understand that each market area has its own unique circumstances. Above and throughout this review, I divided the Greater Seattle area into 6 different market areas in order to illustrate this.
This chart is a study of the comparison of new listings to sold listings, which indicates demand. Over the last 12 months in each market area, sold listings have outpaced new listings. While some areas experienced more new listings from the same 12 months the year prior and some less, in each area the sold listings moved at a higher level than the previous 12 months. This is encouraging, as it shows that demand for our area is still very high.
This is driven by having one of the leading national job markets and continued low interest rates. One of the factors that affected the 2018 market shift was higher interest rates. The majority of 2018 rates were in the 4's and almost reached 5% in late fall. In 2019, we started at 4.5%, and currently sit around 3.7% according to Y charts. In fact, since June we have remained under 4%. This has helped curb affordability issues, brought first-time buyers out in force, and helped buyers that are also sellers move equity with low debt service. Believe it or not, experts are predicting rates will remain low throughout 2020. This is a key factor for consumers to pay attention to if they plan to jump into the market.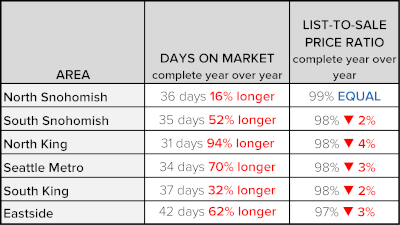 Above is a look at the new normal for market times and list-to-sale-price ratios. On average, it simply takes longer to sell your house now compared to the constricted, extreme seller's markets of 2016-2018. The expectation of your home selling in the first weekend needs to be tempered, as the playing field of inventory has equaled due to more new listings coming to the market.
There is a phenomenon of Baby Boomers cashing out their equity and downsizing or moving out of the area. This is providing great move-up inventory for Gen X and Millennials to absorb. That absorption is then providing a nice selection of first-time-homebuyer houses. Bear in mind however, that the lower price points are where we are seeing the strongest demand, shortest market times, and stronger price appreciation. It's a pretty awesome cycle to witness!
Sellers have had to negotiate a bit more, whether on the initial offering or during the inspection period. List-to-sale price ratios indicate that buyers and sellers are engaging in the dance of negotiations as prices return to a more normal level of price appreciation. Sellers on average are still getting very close to their list price. Since these are the averages, you must realize that there are still sellers that are escalating.
Homes that come to market with a well-thought-out pricing strategy, in great condition, and expertly merchandised are the ones we see breaking the average. Also, the influx of first-timers has helped drive demand in the lower price points, curtailing days on market and tighter list-to-sale price ratios in that section of the market.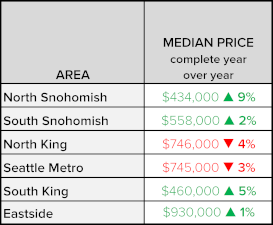 When analyzing price appreciation, it is important to use a large data pull. For example, the chart above takes the last 12 months of prices and compares them to the previous 12 months. This provides a much more holistic observation of price growth versus a smaller data pull, such as month over month. Take note that the media often uses month-over-month data to paint a more dramatic story.
As mentioned above, the close-in, in-city markets have experienced a correction. It is clearly more expensive to live where you have a shorter commute to major job centers. Also, on the Eastside where the prices are the highest, they enjoy close proximity to some of the area's biggest employers and arguably some of the best school districts in the area. The more out-lying communities found in south King and all of Snohomish County continue to see steady appreciation due to still-manageable commute times and affordability. The north Snohomish County market has been a hotbed for first-timers and Baby Boomers moving out of the area due to retirement and commutes not being a factor.
Note that this data pull is a complete year-over-year look at December 2018 to November 2019 compared to December 2017 to November 2018. Bear in mind that the first half of 2018 was an extreme seller's market with sparse inventory and crazy escalations. This is where prices found their peak, and as we move away from those unique months and head into 2020, I believe that we will see the decrease in appreciation equal out and possibly have some subtle growth.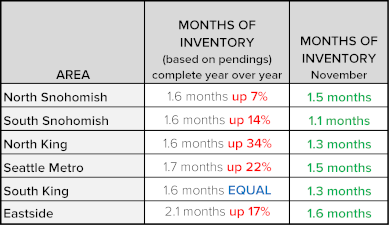 The chart above is a study of the months of inventory. This illustrates how quickly we would sell out of homes based on demand if nothing new came to market. We are calling the 2019 market a more normal market, but in reality, it was still measured as a seller's market (0-3 months of inventory). It just hasn't been so extreme, which has created a mentality that needs to be adjusted.
Just like the pricing study above, the data from the first half of 2018 included some markets that had only weeks of inventory versus months. That feels wildly different and takes some getting used to. Some may argue that the new normal of measuring a seller's market is now 0-2 months, and that 2-4 months is a balanced market. Perspective is driving that viewpoint, as we have an entire portion of consumers that have known nothing besides historically low interest rates and low inventory levels. The vantage point of what is actually normal is finding its footing.
Right now, all six markets sit at a lower inventory level than the average of the year. This is due to seasonality. Many sellers prefer to come to market when the days are longer and we are outside of the holidays. I predict that the low interest rates and the turn of the new year will encourage strong buyer demand. New Year's resolution goal setting always brings demand. With that said, the sellers that come to market earlier in the year prior to the spring rush will enjoy a large audience hungry for inventory to gobble up.
Overall, 2019 has been a very positive year in real estate. The majority of the sales have been propped up on incredibly favorable equity positions on behalf of sellers and historically low interest rates for buyers. If a person has owned their home for 3 or more years and hasn't cashed equity out, they are in a positive equity position. For those that have been in their homes for 10 or more years, they are knocking it out of the park!
Below you can watch a short video from Matthew Gardner, Windermere's Chief Economist, and hear what he thinks we have in store for 2020 on the national level. As we head into the New Year, please reach out should you have a curiosity about how your local real estate market relates to your financial and lifestyle goals. It is always my goal to help keep my clients informed and empower strong decisions through thorough research and a high level of communication.
Here's to a happy holiday season and a prosperous 2020!
---
It's that time of year when Windermere Real Estate's Chief Economist Matthew Gardner dusts off his crystal ball and peers into the future to give us his predictions for the 2020 economy and housing market.
---
Holiday Giving!
This Christmas, my office adopted 23 foster boys, ranging in age from 13-18 years old, and living in group homes managed by Pioneer Human Services. These group homes serve boys who are struggling with emotional, behavioral and/or psychiatric problems that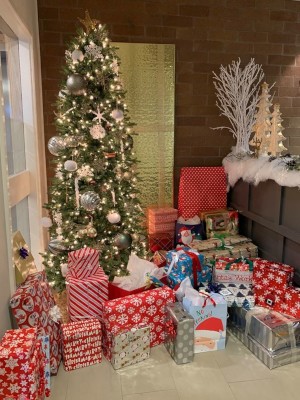 prevent placement in a traditional foster care setting. We purchased gifts, using wish lists from the boys, to help provide a joyful Christmas morning for these teenage boys who might otherwise be overlooked.
The office also raised money for grocery gift cards for families in need (also referred by Pioneer Human Services). This year we distributed $3,538 in grocery gift cards to 12 local families.
We are also thrilled to report that we were able to deliver a full car load of warm winter donations to Mary's Place from all of your generous donations during our Thanksgiving pie giveaway and Santa photo events.
Happy Holidays!