Because big parties with crowds, expensive cocktails, and massive fireworks shows aren't the only way to ring in the new year.
The holiday season is in full swing, and the year (and the decade!) is almost over. If a big party is not your scene, you're not alone. Some of the most fun and meaningful moments in life are a little more intimate and shared with people we love. Below, I've rounded up a few ideas for ringing in the new year that are a little off the beaten path.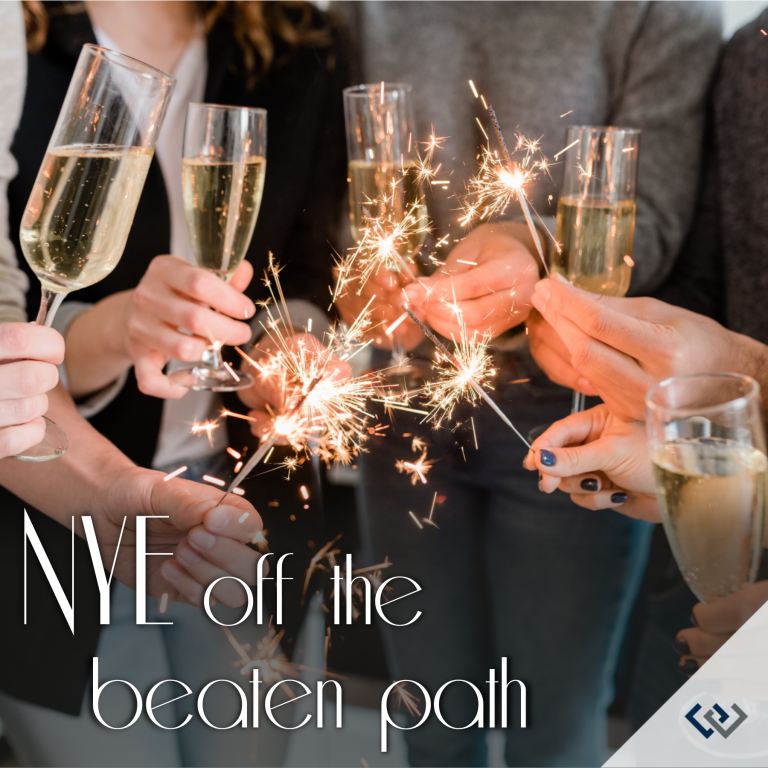 Staying In
Invite your favorite people to share a meal. Plan an elaborate menu, and go all-out fancy. It's the end of a decade, after all. Not much of a cook? Plan a potluck instead. Challenge everyone to make something they wouldn't normally cook. Or assign teams and host a cook-off competition. There are lots of possibilities, but the end result of spending the evening with those you love, reflecting on the past and planning for the future is always a win.
Gather the gang for drinks, snacks, and some good-natured smack talk. Game nights provide an easy way to laugh, play, and get out of your comfort zone, together. To avoid a game night fail, make sure you think about these three questions: 1) How many people can comfortably fit in your space 2) How many people can play the games you want to play 3) What kind of group do you want to have?
There are tons of great games you can play together, but here are some ideas, broken down by category. May the best player win!
Invite a local wine expert and a few friends to a special NYE tasting. Or, choose a type of wine and a price-point, and have everyone bring a bottle. Whether you are supplying the wine, or leaving it up to your guests, you'll need to make sure you have enough wine glasses and a couple of good corkscrews, as well as plenty of food to soak it all up. Here are some great tips and ideas for hosting a great tasting.
If wine isn't your thing, you could host a tasting event with beer, chocolate, or a different food item you love!
If you'd rather have a low-key, casual evening at home, throw a pajama party! Cocktails, appetizers, and jammies were definitely meant to be together! You could make it a girls night in, a sleepover, a movie marathon, a family affair… so many possibilities! To make the evening feel extra special, have a signature cocktail for the evening. Perhaps something with champagne? Plan lots of snacks, gather all the throw blankets and pillows you can find, and get cozy.
Out & About
Take a mini vacay! It could be a fun getaway for the family, a renewing solo adventure, or the ultimate date night. During the day you can do some shopping, go see a movie, take advantage of the hotel pool, or relax in the spa. Ring in the new year with a meal in the hotel restaurant, or order room service for a special treat.
Attend a Religious service
Also called a Watchnight Service or Mass, the late-night New Year's Eve religious service is a wonderful opportunity for self-reflection, renewal and preparing for the year ahead.
Spend the day volunteering your time for a worthwhile cause that is important to you. Perhaps there is a homeless shelter in your city who is looking for help serving dinner. Or a nursing home nearby, full of people who could use a friendly visitor. Make it a family day, or ask a few friends to join you. Spending time serving others can be one of the most rewarding ways to close out the year.
For a casual, fun-filled evening with friends, ring in the new year with singing, drinks, laughter, and fun. If you like the idea of karaoke, but you're too shy to sing in front of strangers, rent a private karaoke room so only you and your closest friends can laugh at each other.
No matter how you decide to close out the year, choosing to spend your time with people you love will ensure that you have a holiday worth remembering.
Cheers!