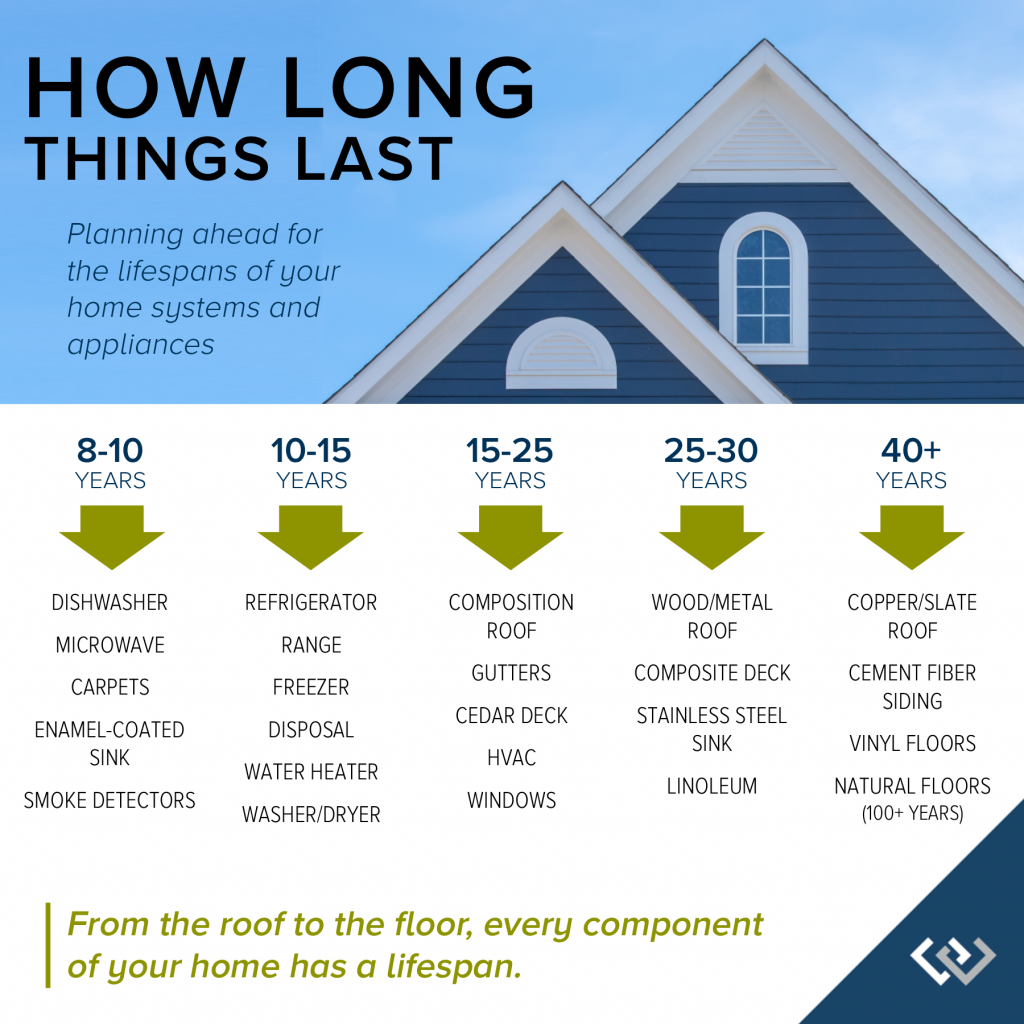 We all know that nothing lasts forever, but when everything is working fine it is easy to forget that all of the systems and appliances in your home have a finite lifespan. Keep this information in mind, whether you are buying or selling a home, budgeting for improvements, or deciding between repairing and replacing.
Here's a brief look at some of the components of your home and their average lifespans (courtesy of the National Association of Home Builders)
ROOFING, SIDING, WINDOWS & DECKS. You can expect slate or tile roofs to last around 50 years, wood shingles 25-30, metal will get you about 25 years, while asphalts typically last about 20 years. The lifespan for siding can vary quite a bit. Brick will last 100 years or more, aluminum about 80 years and stucco will probably last you 25 years. Wood siding can last anywhere from 10 to 100 years depending on the climate you live in and how it is maintained. Both aluminum and vinyl windows will last 15 to 20 years, while unclad wood windows can have a life of 30 years or more. Cedar decks will average 15-25 years as long as they are properly treated and cleaned, and a high quality composite deck will last 30 years with minimal maintenance.
FLOORING. The natural flooring materials such as wood, marble, slate or granite will all last 100 years or more, while tile has an average life of 70-100 years. Vinyl can last up to 50 years, while laminate and linoleum will get you up to 25 years. Expect your carpet to last 8-10 years, depending on use.
KITCHEN & BATH. Laminate countertops can have a life of 20 years or more, but it will vary depending on use. Wood, tile and stone should last a lifetime, and cultured marble will typically see a lifespan of 20 years. You can expect your stainless steel sink to last you about 30 years, while an enamel-coated sink will give you five to 10 years. Slate, granite, soapstone and copper will be around for 100 years or more. Bathroom faucets should give you about 20 years, and toilets will average a 50-year lifespan, although some of the parts will need replacing.
APPLIANCES. The lifespan of appliances will vary widely depending on the appliance, the brand, model, and use. Use these average lifespan numbers as a rough guide for when it may make more sense to replace rather than repair. Gas ranges tend to have the longest lifespan of your major appliances, giving around 15 years of use. Electric ranges on the other hand, are closer to 13 years, which is also the expected lifespan for standard refrigerators and clothes dryers. Your garbage disposal should give you about 10 years of use, while the dishwasher and microwave will be around nine years. You can expect your electric furnace to last about 15 years, 18 for gas and 20 for oil-burning. Central air systems will live 10 to 15 years on average.