No one knows downtown Woodinville better than our very own residents. From the best places to hang out to premier pet-friendly services, we have your inside scoop!
Here is a look at 5 spots (plus one annual event!) to explore in downtown Woodinville, as recommended by locals: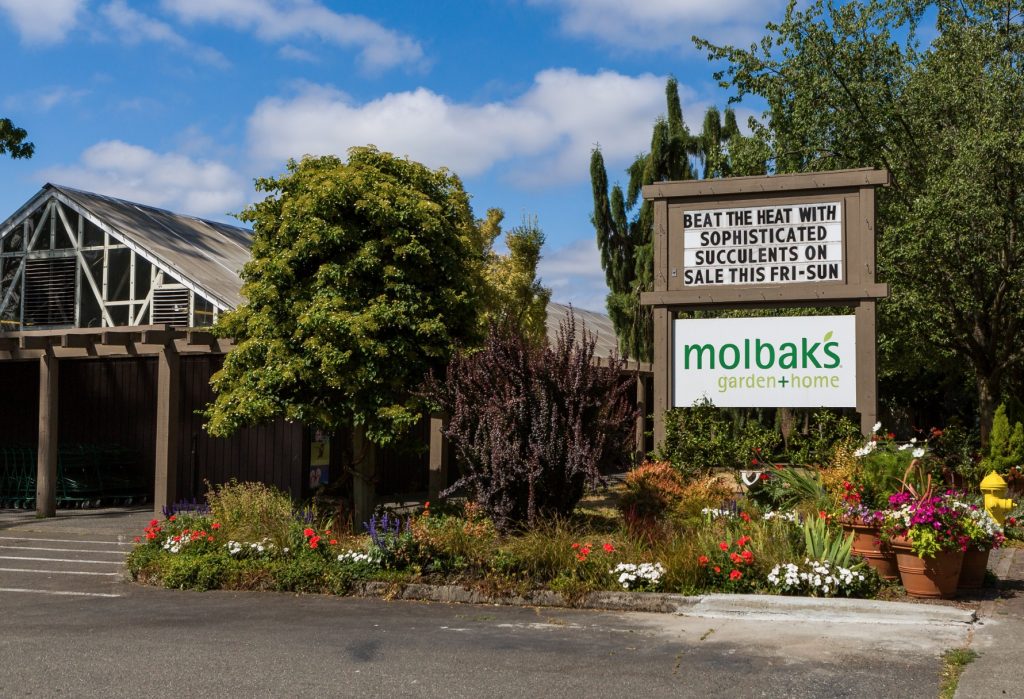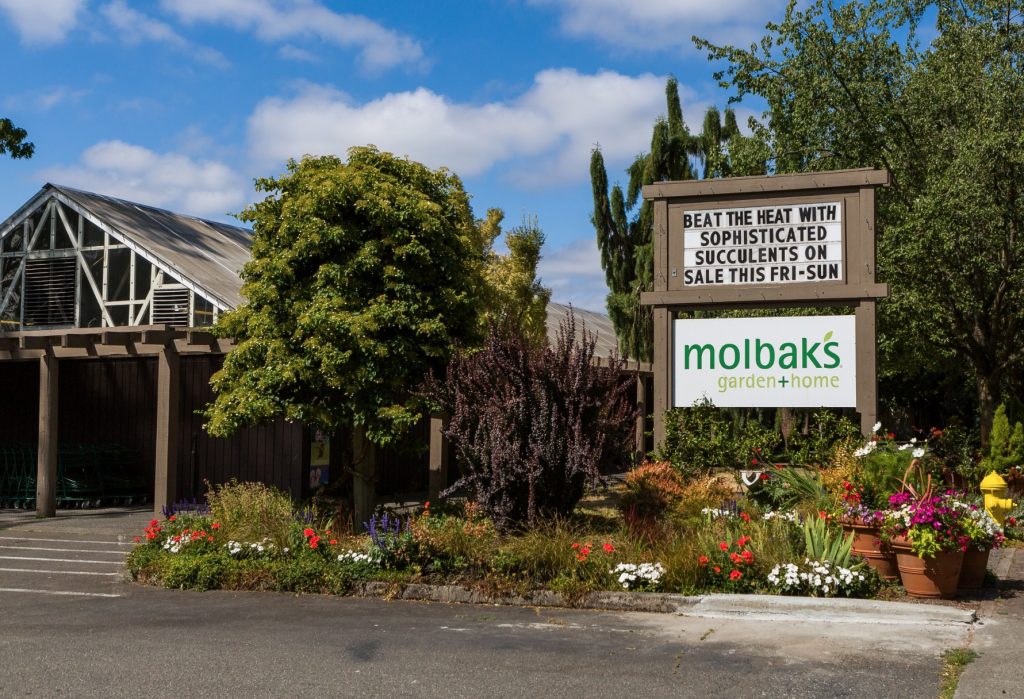 Located at 13625 NE 175th St. Woodinville, WA 98072
A popular local spot, Molbak's Garden + Home has everything you could need to fix up your yard or give your home the love it deserves. Homeware, kitchen gadgets, outdoor dining sets, gardening tools, and much, much more are offered here, plus design services ideal for filling your landscape with beautiful flower arrangements and container gardens.
Molbak's isn't just for shopping though, as Kim Harman explains. "Molbak's Garden and Home is a great place to gather with friends, grab a cup of coffee, stroll around the nursery or enjoy a bite to eat at Russell's Garden Café & Wine Bar located within the store." With special events and donations to the community, Molbak's is a staple that residents cannot get enough of! 
---
Located at 13701 NE 171st St. Woodinville, WA 98072
If you want to learn more about the sustainable food movement right here in Woodinville, check out 21 Acres. "I always enjoy visiting 21 Acres," says Kim Harman. "The Center focuses on local food, farming & sustainable living. The Center brings the community together with local farmers and vendors. You can take an education class on sustainable living, enjoy a variety of cooking classes, or pop into one of their many community events. The marketplace is open throughout the week with fresh and delicious local produce and products." Discover how you can help yourself, your community, and the world at large at this innovative center!
---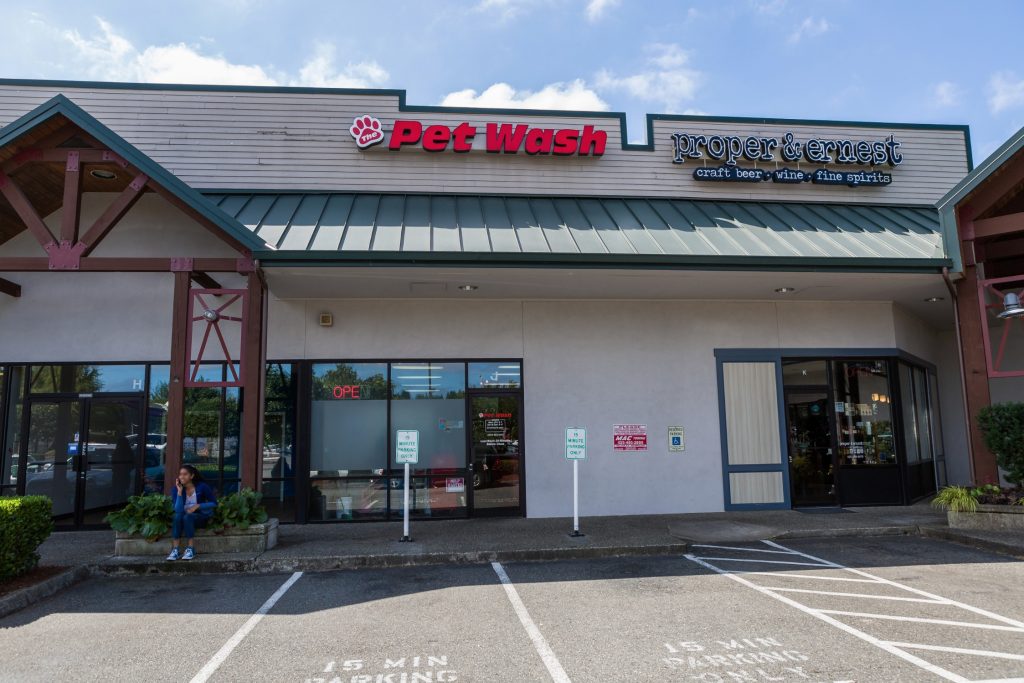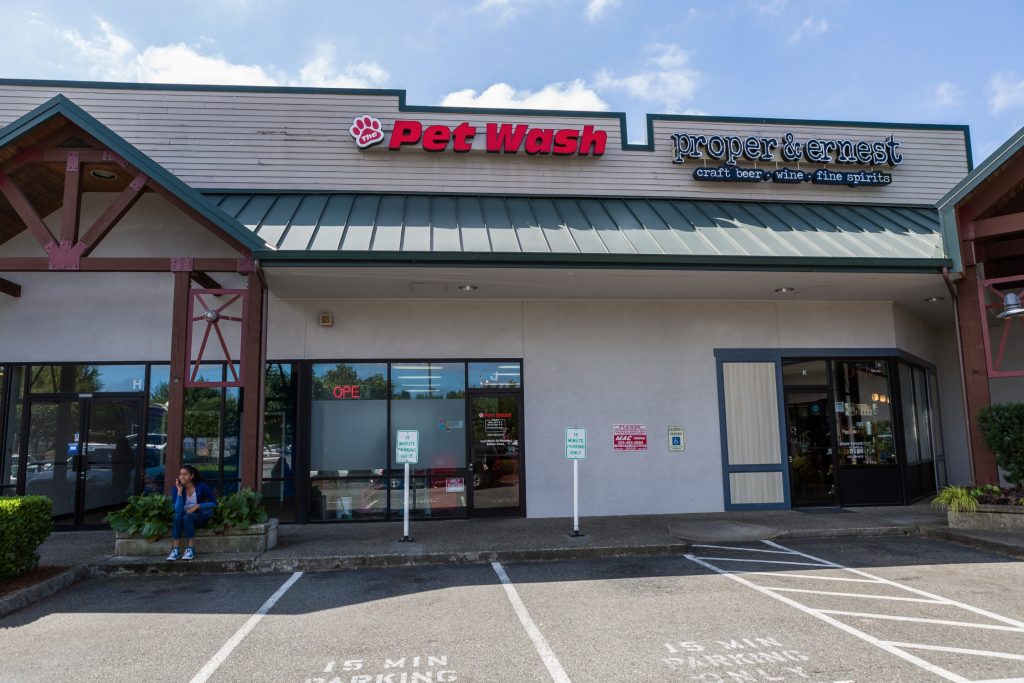 Located at 13317 NE 175th St. Woodinville, WA 98072
If your pup is looking a little scruffy, take him down to the Pet Wash. "The Pet Wash, located on the main drag in Woodinville, is a great place to have your pooch groomed," shares Becky Larsen. "They also have self wash stations if you want to wash Fido yourself. Great service, reasonable prices and a wonderful staff. It's nice to have trusted owners who really love and care for your pet."
With state-of-the-art bathing systems and virtually every type of shampoo, conditioner, and grooming tool imaginable supplied onsite, they have exactly what you need to make your furry friend look and feel like royalty.
---
Located at 13132 NE 177th Pl. Woodinville, WA 98072
If you're still looking for that "fur"ever friend, check out Homeward Pet Adoption Center. "We got our dog at Homeward Pet in Woodinville," shares Lynette Hensley. "Of all the shelters we visited, we appreciated the experience here most of all. Not because this is where we found our dog, but because of the way they worked with us, talking through expectations, hopes, compatibility. We spent a long time with a few dogs, and with our chosen pup too."
---
Located at 12728 NE 178th St. Woodinville, WA 98072
If you've got a future soccer star on your hands, sign him or her up for the Scott's Soccer Tots program. "Scott's Soccer Tots [at the] Woodinville Indoor Sports Facility [is] a great indoor soccer structure for year round play for little guys, youth, and great soccer summer camps," shares Becky Larsen. "Our kids loved the lessons, and you can have birthday parties there too!" For anyone wondering about the name, Larsen clears that question up: "Of course there really is a 'Scott!'"
---
*BONUS TIP!*
Located at various locations throughout downtown Woodinville
If you're in downtown Woodinville on August 19, 2017, you will definitely want to check out the Celebrate Woodinville Festival: "Our family loves to attend the annual Basset Hound Bash/Woodinville All Fools' Day Parade every August," shares Kim Harman. "We kick off the morning with the pancake breakfast hosted at the local fire department, grab a seat on the parade route to watch the floats and dozens of basset hounds go by. It's a fun-filled day at the farmer's market with live music, art/craft vendors, food, wine and beer." From 8:00am to 5:00pm, this yearly event is sure to be a great time for all ages!


---