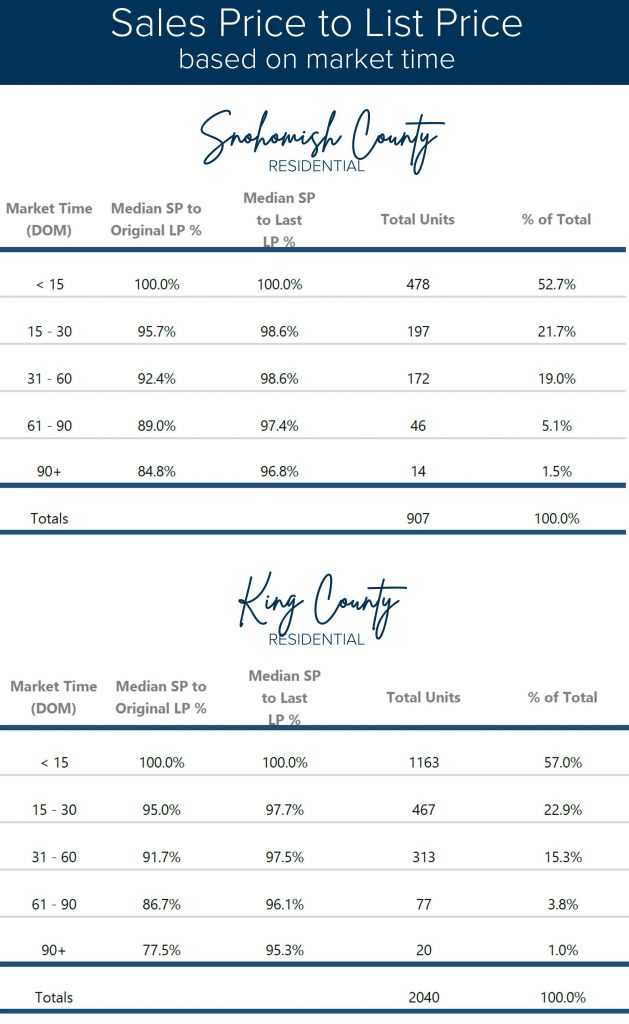 As we experience the fall equinox, when the length of a day is equal to the night, we are also experiencing a similar balance in the real estate market. We define a balanced market to have 2-4 months of available inventory. This means that if no new homes came to market, we would be sold out of homes in that amount of time. Month-to-date in September, we have 2.1 months of inventory in King County and 1.7 months in Snohomish County, after having 1.6 months in King and 1.5 months in Snohomish in August. This has been a stark contrast to the spring months when we bottomed out at 0.3 months in both counties in March.
How we navigate the changing environment is key! The reasons why people buy and sell real estate is often rooted in life changes. Yes, real estate is an investment and often leads to financial gain, but moves are more likely motivated by life circumstances that create a desired change in housing. So how do you find success in a market approaching or already in balance, versus an extreme seller's market?
First, market preparation should not be taken lightly. How a home is presented to the market is instrumental in setting it apart from the increase in the competition (more inventory), so it stands out and sells quicker. As a part of my process (in all markets), I walk through the property with my sellers and we devise a plan to improve, clean, and sometimes update the property so it shows as favorably as possible in order to attract the largest pool of buyers possible. With more selection, this preparation is paramount to getting the highest return and shortest market time.
I will often refer to my preferred list of contractors to help take on our prep list and I can also consult on what items are of the highest priority to improve, so we do not cut into profit. Windermere even has a no-upfront, low-cost loan program, The Windermere Ready Program that allows for quick and inexpensive access to funds in order to get property preparation done seamlessly.
The second key element is pricing. In King County, prices are up 10% complete year-over-year and up 18% in Snohomish County. However, prices are down 10% from the spring 2022 peak in King County and 12% in Snohomish. Price appreciation has started to decelerate (slow down) year-over-year, but we still have above-average price gains when we compare 2021 to 2022. Not to mention, we are sitting on top of a decade of positive price appreciation. The long-term equity growth a seller has is a healthy perspective to set their expectations on rather than holding on to the extreme environment of the spring market that is not returning.
With that said, sellers have amazing gains to enjoy, and not overshooting their price will lead to the most profitable and drama-free outcome. In King County in August, 37% of homes sold at or above the list price, and 34% in Snohomish County; that is 1 in 3 homes! These homes were brought to market with accurate pricing that attracted a buyer pool that understood the value and was motivated to offer. Market time was also shorter. Homes in King and Snohomish Counties that sold in 15 days or less averaged a list-to-sale price ratio of 100% and homes that sold in 15-30 days took close to a 5% hit on list price. When the days on market get longer the hit on list price gets even higher. It is important to get the pricing right in the beginning. Thorough research, properly focused perspective, and clear communication all play into this success.
Lastly, negotiations have changed. In the extreme seller's market, it was all about buyers waiving all their contingencies and a willingness to pay high amounts over the list price to win a home because the selection was low and money was cheap. Now that interest rates have increased, prices have been tempered by the cost of a loan, putting downward pressure on the peak prices from the spring. This is a sign of the market coming into balance. All of these financial factors hinge on one another and are related. We must understand this when we establish a price and head into negotiations. We need to know when to lean into the data and draw a line in the sand on our value, and when to be open and acquiesce to a solution. Having the emotional intelligence to see the big picture and work towards win-win outcomes serves everyone well. This muscle is being rebuilt across the industry; make sure you are aligning with a professional who is well-researched, calm and confident.
What has been really positive about this shift is the ability for a buyer to be a bit more nimble with their move, especially if they have a home to sell. Before, there was a stop-gap in the market because if a seller who was a buyer had to sell their home in order to buy, they were fearful that they would not find a place to live and would have to move twice. Now we are seeing home sale contingencies happen, and buyers whose homes are under contract are making offers subject to those successful closings. It has also allowed for less-rushed due diligence, which is much more comfortable and reduces risk.
One last element I will add is that market conditions vary from neighborhood to neighborhood and price point to price point. Another element we must be aware of as we move away from the extreme is that we cannot make sweeping statements about the market. Some markets are in balance, some are still a seller's market, and some are leaning towards the favor of buyers. The detail and care that is required to properly educate our clients are more important than they have been in some time and one that I take great pride in.
The answer is often, "it depends" which is followed by a stockpile of research, discernment, and communication in order to formulate a strategic plan and create a successful outcome. It is always my goal to keep my clients well-informed and empower strong decisions. Please reach out if you are curious about the success you can find in our new market. As stated above, life changes often motivate moves, and helping people navigate these huge, life-changing moments is my passion.
Did you know Windermere is the official real estate company of the Seahawks?!
The best part of this partnership is our #TackleHomelessness campaign. For every defensive tackle made by the Hawks at their home games throughout the season, The Windermere Foundation donates $100 to Mary's Place. Our current total is over $200k donated over the last 6 seasons of partnering with the Seahawks. 
Since 1999, Mary's Place has helped thousands of women and families move out of homelessness into more stable situations. Across five emergency family shelters in King County, they keep families together, inside, and safe when they have no place else to go, providing resources, housing and employment services, community, and hope.