Last week, my office hosted our 14th annual Economic Forecast Event with Matthew Gardner, Windermere's Chief Economist. It was an hour-long presentation followed by lively Q & A that was packed with useful information to help guide us as we start the new year. Matthew journeyed the audience through a macro to micro approach, reflecting on all of the activity in 2021 and also analyzing future trends.
He started with a national overview of the economy overall and ended with a detailed accounting for King and Snohomish County housing markets, including some predictions. Below are some highlighted bullet points. Please reach out if you would like a digital copy of his PowerPoint and/or the link to the recording of his presentation.
National Economy:
The GDP (Gross Domestic Product) growth in 2021 was 3.9%, well above the long-term average of 2%. This indicates we are not in a recession and have recovered from the brief recession we experienced in the spring of 2020. A recession is defined by two consecutive quarters with declining GDP.
Matthew anticipates the U.S. to be back to full employment by the end 2022 after the fall-out of 2020 due to the pandemic shut-down.
Inflation:
Inflation peaked in Q4 of 2021 and is projected to start to slow as supply chain issues improve.  Certain industries such as used cars which are costing 25% more since February 2020 are having a huge influence on overall numbers. Food and energy prices are also volatile and affecting overall numbers.
U.S. Housing Market:
Improved supply chain and labor forces will increase the number of new builds, increasing inventory to help quench buyer demand. This will slow national year-over-year price growth to 6.5% in 2022.
Regional Economy:
Jobs are increasing and will recover from the spring 2020 fall-out twice as fast as the job losses we saw during the Great Recession of 2008. In fact, he expects local jobs to fully return by the end of 2022!
Our diverse economy which includes tech, aerospace, biotech, and manufacturing will help our overall economy thrive as we are not dependent on just one industry for a full recovery.
Mortgage Rates:
Mortgage rates are predicted to slowly rise in 2022. Matthew along with the National Mortgage Brokers Association, Fannie Mae, and the National Association of Realtors expect rates to end the year just under 4%. This is well below the long-term average of 7.5%!
Prices:
In 2021, prices were up 14% year-over-year in King County and 24% in Snohomish County. He predicts housing prices to rise 13% in King County and 14% in Snohomish County in 2022. This is well above the long-term average of 5.5% year-over-year!
The Work from Home phenomenon has had a huge influence on price growth in the suburbs. Many buyers have eliminated long commutes or are only having to drive into work a handful of days a month. This has driven many buyers to consider the suburban markets which is why the price growth in Snohomish County was much higher than King. Seattle saw a bit of a correction as this new lifestyle shift came to be. He anticipates 2022 to be kind to urban markets and a continued attraction to the suburbs.
In 2021, net in-migration in both King and Snohomish Counties was up, which is continuing to have a strong influence on buyer demand. In fact, new listings were up in 2021 over 2020; it was increased buyer demand that whittled down inventory levels and drove prices up.
Homeowner Equity:
Prices have been growing since 2012 and have had historic growth over the last two years. In King County, 59% of homeowners have 50% or more equity in their homes and in Snohomish County, 55% of homeowners have 50% or more home equity.
This uptick in home equity and the Work from Home shift has reduced the average tenure a homeowner spends living in their home to just shy of 7 years in 2021 from 10 years just two years ago. This is another indicator of buyer demand.
Are we Headed Towards a Housing Bubble?
Simply put, no!  Even with forbearance being a viable option to weather the fall-out from the pandemic, there will not be a wave of foreclosures on the horizon. Homeowners have too much equity to walk away, they will sell and take their profits in order to recover if need be.
Prices have made a big run, but if you take interest rates and inflation into consideration, monthly payments are only up 26% since 2000 in King County and 34% in Snohomish County. That is parallel to raw home prices being up 249% since 2000 in King County and 272% in Snohomish County.
Financial indicators such as recovering jobs, deep homeowner equity, stringent lending practices, strong buyer demand, and low interest rates combat any inkling of a housing bubble. There are 600k Millennials in King County and 171k in Snohomish County that are coming of age and will want to buy a house.
Condominiums:
Condo sales stalled when the pandemic hit as people decided if they wanted to live in such density, and the downtown core suffered due to the shutdown. Since then, the stall started to move forward and condo prices are up 7% year-over-year in King County and 23% in Snohomish County. Condos provide a more affordable option, especially for first-time buyers, and single-level, maintenance-free living for retirees. Condos are predicted to appreciate 4% in King County in 2022 and 7% in Snohomish County.
Luxury Market:
2021 was the year that the $1M home sale price became more common. In 2021 there we 11k sales over $1M in King County compared to 7k in 2020. In Snohomish County, there were just shy of 2k sales over $1M in compared to 590 in 2020. The $1M price point may not be synonymous with the definition of luxury any longer. It is more so a depiction of affordability in our region. With that said, homes in the very high-end have had brisk movement and marked appreciation.
Overview:
The Work from Home lifestyle is real and has created lots of movement in the marketplace, especially towards the suburbs. This has caused an upward trajectory on price appreciation along with continued low interest rates. New listings outpaced 2020, but buyer demand gobbled up the inventory leaving us at the lowest levels we have ever seen as we start 2022. Price appreciation will continue but is predicted to decelerate after record-breaking levels in 2021.  Interest rates will creep up by the end of 2022 and inflation will improve as the supply chain recovers. Homeowner equity is at an all-time high and jobs are recovering, offsetting any big crash to the housing market. Affordability is our biggest roadblock as the landscape of the PNW has changed with tech jobs the heart of our renewed economy.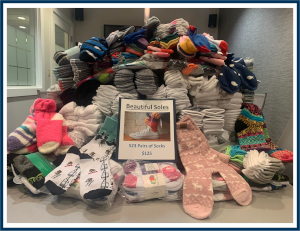 If you attended our Virtual Economic Forecast Event last week with Matthew Gardner, did you see the mountain of socks?! Matthew is a bit of a sock aficionado, and we usually give him a gift of some fun or funny socks at our yearly event. This year, we decided to collect socks and donate them in Matthew's name to Beautiful Soles for local kids in need. I am happy to report we collected 523 pairs of socks and $125 amongst our brokers.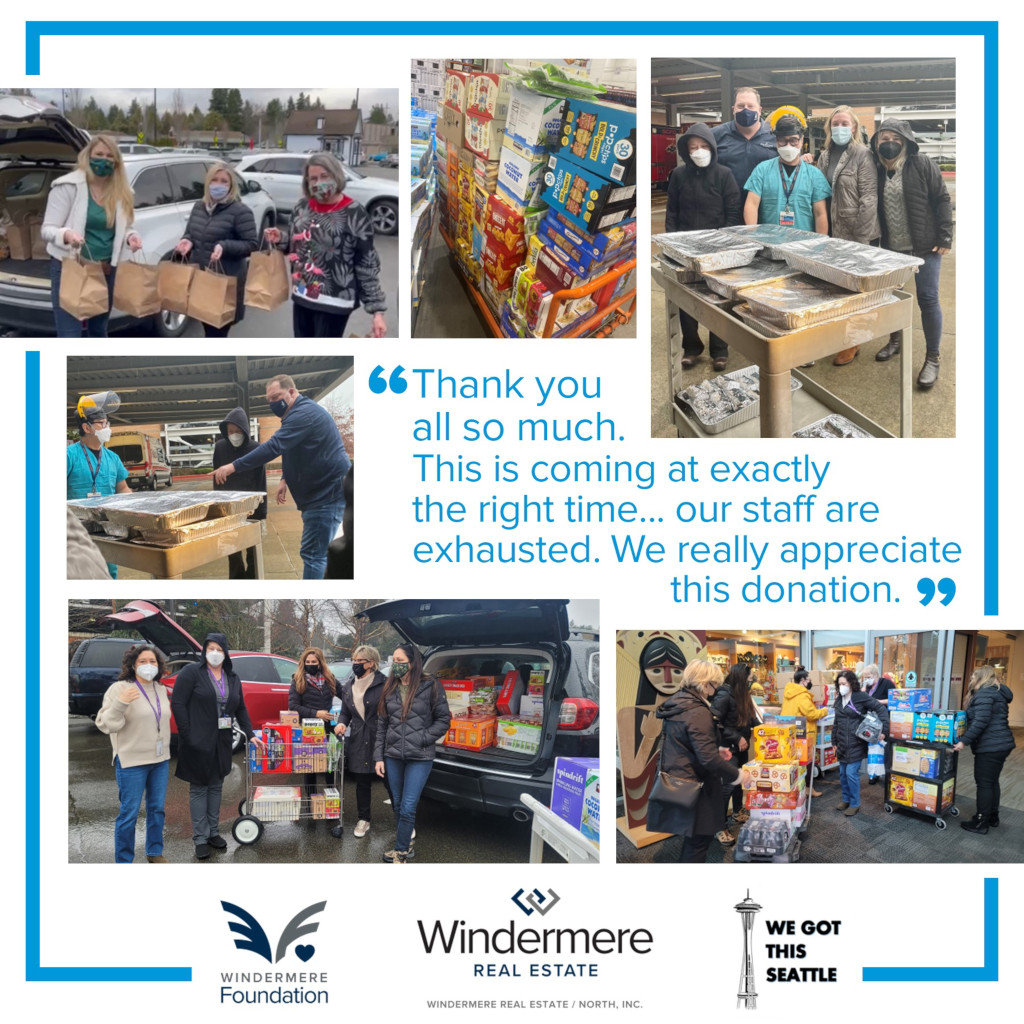 Thank you to everyone who gave to our Healthcare Worker Meal Drive in December! We raised $4,360 which enabled us to deliver meals and snacks to frontline workers at Providence in Everett, Swedish Edmonds, and UW Medicine Northwest Hospital. We partnered with We Got This Seattle, who helped us coordinate the restaurants we ordered from and set up our contacts at the hospitals.  I am so grateful for ALL of our local frontline workers who have been working so long and hard under the most difficult circumstances.