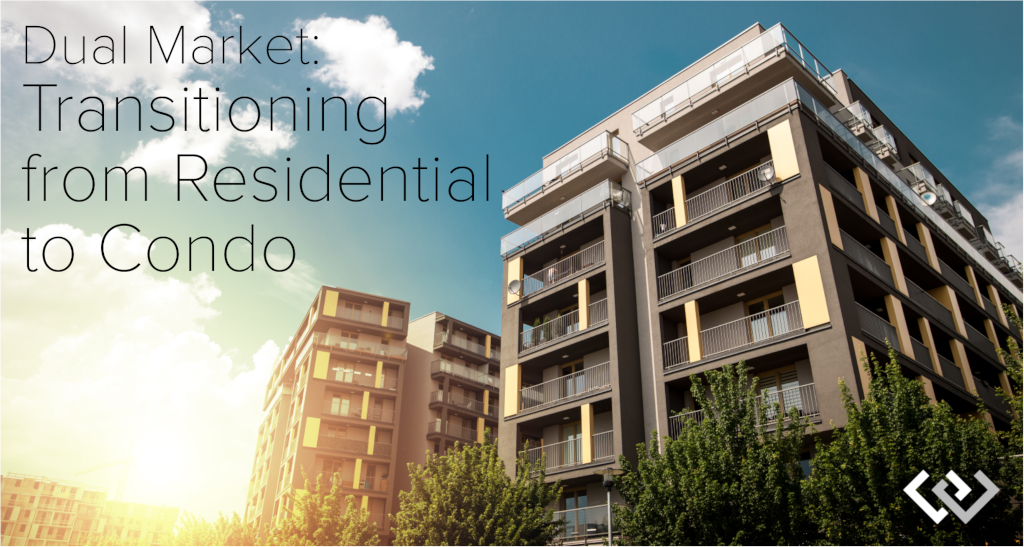 Last month, I did an analysis on the new phenomenon of a dual market. A dual market is when you have different market conditions within the same overarching real estate market. This duality presents amazing opportunities for sellers who are also buyers, depending on where they want to go. I reported on two dual markets, the move-up market and the move-out market. Another dual market that deserves to be shared is the condo market compared to single-family residential.
In September, single-family residential homes in Seattle Metro had an absorption rate of 43% while condos were at 27%. Months of inventory based on pending sales for single-family residential was only 1.9 months of available inventory, and condos, 3.5 months! That is the difference of a seller's market for single-family residential to a balanced market for condos. After many solid years of strong appreciation, folks that are looking to cash out the equity on their single-family residential homes and move to a condo have the opportunity to move their investment with a sizable down payment and upgrade to a lifestyle that is often stair-free with less maintenance.
The median price for a condo in Seattle Metro in September was $455,000 and for a single-family residential home, $750,000. The median price for a condo in south Snohomish County is September was $343,000 and for a single-family residential home, $569,000. It is common for folks to sell their long-time family home and downsize into a condo and pay all cash. The buildup of equity over the years and paying down their loans allow for large cash-outs and easier all-cash purchases.
If one is getting a loan though, it is important to highlight today's interest rates. They are a point lower than they were a year ago, affording buyers 10% more buying power. For example, a one-point-lower rate on a purchase at $500K will now afford a buyer the purchase of a home at $550K with the same monthly payment. Couple that with price appreciation tempering and you have a perfect downsizing market, which often includes condo purchases!
If you are curious about moving from a single-family home to a condo and the opportunity this dual market presents, please reach out. It is my goal to help keep my clients educated and empowered to make strong decisions. This is especially rewarding when it leads to their next chapter in life, which are amazing transitions to be a part of.
---

Did you know that giving thanks on a daily basis can reduce your trips to the doctor, increase your overall happiness, improve personal relationships, and lead to more exercise? Sounds like a magic pill to me, and it's free! Harvard Medical School recently released a study that speaks to the benefits of practicing gratitude. With Thanksgiving approaching, challenge yourself to write down your gratitudes daily, and see how it goes.
Download your FREE printable gratitude journal here.
---

It's true! A listing agent's goal is to get their listing sold to a qualified buyer who will close. However, a good listing agent also realizes that once a home is under contract, they now have to sell the house to the appraiser if the buyer is getting a loan. You see, a buyer cannot complete their financing if the appraisal does not come in at the same value or higher than the agreed-upon contract price. A good strategy, especially if the price escalates above the list price, is for the listing agent to prepare an appraisal packet and meet the appraiser or share it with them via email. This gives the listing agent the opportunity to share their research and the story of the demand surrounding the property. This is some extra effort, but so worth it to ensure success for the seller!
---